Assessment at AUF
The assessment process at AUF is not regarded as evaluations of single areas or operations, but as a systemic approach to improving such areas and the institution's mission fulfillment in a simultaneous and interconnected manner.
The assessment process of the AUF system is structured through periodic activities with the goal of elaborating, developing, and verifying educational goals and improving institutional performance through its fulfillment of the mission. A hybrid data collection method employs the analysis of quantitative and qualitative data points across the system.
Priorities of the assessment model at AUF include:
Revelations about learning, assessment of the classroom experience, and constant improvement of teaching practices.
Efficient and equitable analysis of human and financial resources.
Integrative models of teaching methodologies and learning practices tailored to an international higher learning institution such as AUF.
Ongoing evaluation of the institution at large and how it seeks to fulfill its mission statement.
More specifically, a systemic view of the institution's assessment areas can be seen in the central items within the dotted area of the following framework: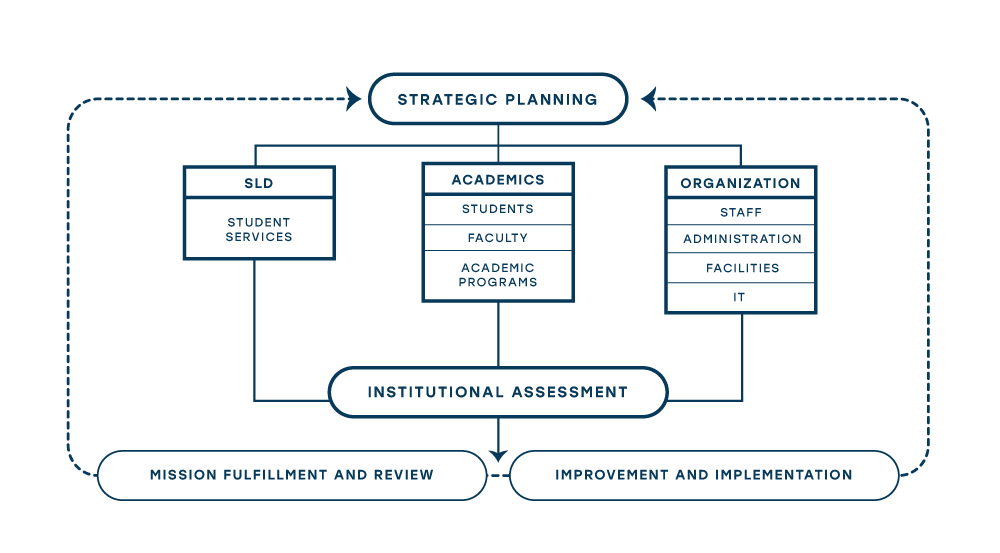 Assessment objectives are calibrated for the areas of examination with the overall goal of capturing a realistic and ongoing representation of quality, effectiveness, areas for improvement, and how each assessed activity contributes to the overall system.
As summarized in the framework, assessment practices at AUF include the following:
The assessment of learning:
Student assessment
Faculty assessment
Assessment of academic programs
The assessment of student services
The assessment of the organization:
Staff
Administration
Facilities
IT
Institutional assessment
Peer review and scientific committee for research initiatives
Aggregate results representing the above assessment areas are explored and analyzed to gage overall institutional performance in its service to the student body, which is the primary focus for mission fulfillment and improvement initiatives that shape AUF's strategic planning. As seen in the framework, assessment, mission fulfillment, and the implementation of improvement are interconnected processes that bridge institutional practices and inform the institution's strategic plan. The circular flow of how assessment weaves through the institutional culture and operativity is intended therefore as student-centric and, due to the institution's unique educational model, aims to continuously improve the community and culture-sustained student learning outcome of the academic program's stated learning objectives.